Want to know more about one of the most talented and intelligent creatures in the animal kingdom? We present you with some basic information about the African grey parrot.
What Is An African Grey Parrot?
African grey is a name used to refer to two medium-sized grey parrots with red tails that are native to Central and West Africa. These are known as the Congo African grey (CAG) and the Timneh African grey (TAG).
Until recently, the Timneh was regarded as a sub-species of the grey parrot but, in 2012, the Timneh was declared a species on its own.
For those who care about such things, the scientific name of the Congo African grey is Psittacus erithacus, and for the Timneh it is Psittacus timneh.
African grey parrots are known for their ability to mimic human speech and their intelligence, and are prized companion pets.
What Is The Difference Between The Congo And Timneh African Grey?
There are several differences between the Congo and Timneh.
Physically, the Congo is a little longer and larger than the Timneh. Refer to the table below for details.
For me, the easiest way to tell that a parrot is a Congo African grey is by the black coloring of its beak. The Timneh has a lighter horn-colored patch on its upper beak, whereas the Congo's beak is black.
The feathers of the Timneh African grey parrot are a dark, almost charcoal grey color, compared to the lighter grey of the Congo parrot, and its tail feathers are maroon-colored whereas the Congo's tail is bright red.
Congo African Grey
Timneh African Grey
Beak Color
Body length
30 to 40 cm
(12 to 16 inches)
23 to 28 cm
(9 to 11 inches)
Body Weight
400 to 650 g
(0.8 to 1.4 lb)
250 to 375 g
(0.6 to 0.8 lb)
Mimicry – Look Who's Talking
The African grey is famous for its outstanding ability to reproduce sounds that it picks up from its environment. Even more impressive is its ability to mimic human speech.
In the case of the Congo grey, it does so in the voice of the human that it is copying. The Timneh grey, however, speaks in its own voice.
African greys are even capable of singing.
There are numerous examples on television, online media, and elsewhere, of African greys demonstrating vocabularies of several hundred words, and the ability to replicate almost any sound.
About The African Grey Parrot's Habitat
The African grey is native to equatorial Africa. The Congo grey is found in large areas of central Africa ranging from the west coast and reaching countries like Uganda and Kenya in the east.
The Timneh is confined to a much smaller area, ranging from Guinea-Bissau and reaching as far as the Ivory Coast in the south.
There is almost no overlap between the habitats of the two species.
African Grey Parrot Lifespan
The lifespan of the African grey parrot in captivity is said to be in the range of 40 to 60 years. Some sources suggest that a life expectancy of even 80 years is possible.
In the wild, the life expectancy of the African grey parrot is dramatically lower at around 23 years.
What Do African Grey Parrots Eat?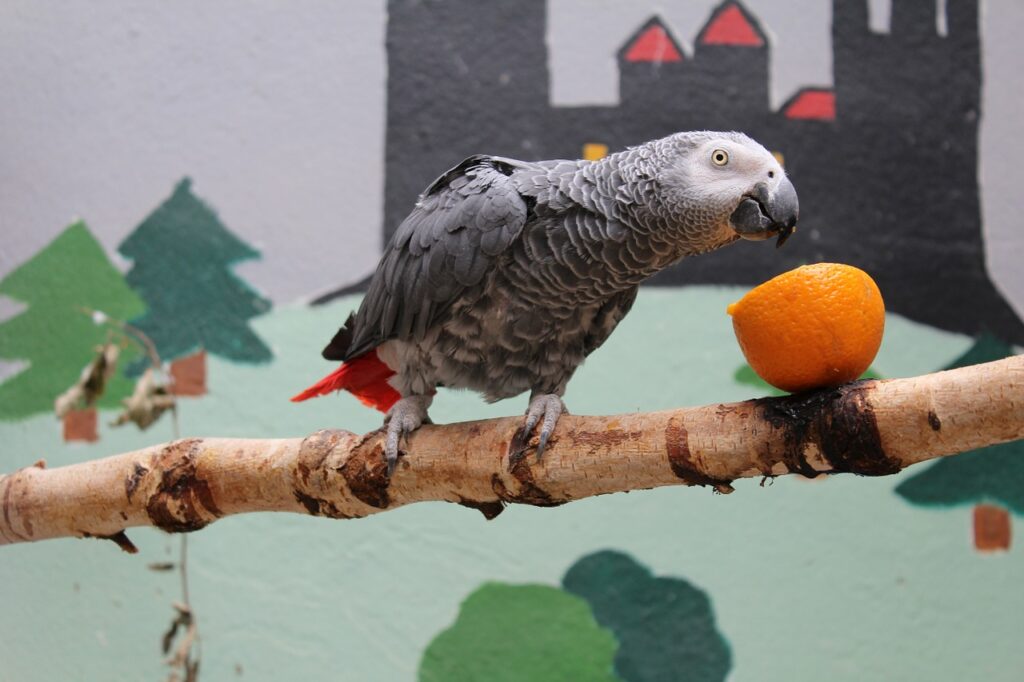 The natural African grey parrot diet consists mostly of fruits, nuts and seeds. It will also eat certain flowers, the bark of trees and even snails and insects. It has a preference for the fruit of the oil palm.
In captivity, it can feed on bird pellets, sunflower seeds, peanuts, cooked gem squash, sweet potato, and most raw fruit and vegetables to be found in the average household.
Elsewhere on this website you can find our comprehensive list of safe foods for parrots, complete with nutritional information for most foods.
Certain human foods, like avocado, are toxic to parrots.
Mr And Mrs Grey
African grey parrots are sexually dimorphic, which means that there are differences in the outer appearance of males and females. These differences are so subtle though that, unless a male and a female are available to be compared with each other directly, it is very difficult to identify a bird's gender.
This method cannot be used to establish the sex of young birds as the physical variations between the genders only begin to appear from the age of about 18 months.
The only reliable ways to determine the gender of a captive African grey is either surgically, or by DNA testing.
In their natural habitat, African grey parrots nest in tree cavities, one pair to a tree, frequently taking over holes abandoned by other birds such as woodpeckers. The hen lays between 3 to 5 eggs in total and is fed by the male while she incubates them. Both parents feed and care for the chicks after they hatch.
Conservation Of The African Grey Parrot
Although African greys have a few natural enemies in the wild, by far the greatest threat posed to them is by humans. Loss of habitat through deforestation, and trapping of birds for the international pet trade has caused their numbers to decline sharply.
Estimates of population sizes in the wild vary widely – anything from several hundred thousand birds to more than 10 million – but there is no doubt that their numbers are shrinking.
It is estimated that in Ghana alone, up to 99% of the total population of African grey parrots may have been decimated.
The International Union for the Conservation of Nature (IUCN) has classified the African grey parrot as 'endangered' (EN), a negative change from the previous 'vulnerable' (VU) classification. This means that there is a very high risk of extinction in the wild.
The Convention on the International Trade of Endangered Fauna and Flora (CITES) afforded African grey parrots the highest level of protection by listing them under Appendix I. As a result, the international trade of wild African grey parrots has effectively been banned since 2017.
The commercial trade of captive-bred grey parrots is unaffected by this ban and is still legal.
African Grey Intelligence – This Birdbrain Is Smart
For a long time, many who have owned, or have had the opportunity to observe African greys over time, have believed that they possess high levels of natural intelligence.
But, it was not until Dr. Irene Pepperberg shared with the world the results of her research with an African grey parrot called Alex, that scientific evidence began to emerge that supported such beliefs.
Dr Pepperberg showed that Alex was able to understand simple verbal instructions and could correctly identify characteristics of various objects according to their number, color, shape, size and material composition.
Alex died unexpectedly in 2007, but Dr. Pepperberg has managed to replicate these results, and continue her research, with several other African greys as well as other parrot species.
African grey parrots are understood to have the cognitive and reasoning abilities of a 3 to 6-year-old human child.
Famous African Grey Parrots
No article about the African grey parrot would be complete without mentioning grey parrots that have achieved fame by showcasing their intelligence and talents.
Einstein
Probably still the best-known parrot mimic, Einstein achieved fame after appearing on TED in 2006. Trained to do so by her keepers (yes, Einstein was a girl) at Knoxville Zoo in Tennessee, Einstein had a repertoire of around 200 words and sounds.
Prudle
This African grey was recognized by the Guinness Book of Records as 'Best Talking Bird' by virtue of her winning the title of 'Best Talking Parrot-Like Bird' at the National Cage and Aviary Bird Show in London, for 12 years in a row between 1965 and 1976.
Prudle had a vocabulary of around 800 words. She retired undefeated.
Alex
Alex became the subject of Dr. Irene Pepperberg's ground-breaking research into animal cognition and became famous after Dr Pepperberg wrote about and demonstrated her findings.
N'kisi
N'kisi has an impressive vocabulary of over 900 words. He was supposedly able to recognize Jane Goodall, the celebrated chimpanzee researcher, after only having seen her in a photograph. Upon their first meeting he asked her "Got a chimp?"
N'kisi is also claimed to have telepathic abilities.
To test this, a study was devised wherein he and his owner, Aimee Morgana, were placed in separate rooms and recorded using synchronized video cameras. Aimee was shown several photographs which she studied for 2 minutes at a time.
In the other room, N'kisi's utterings were recorded and analysed for keywords relating to the pictures shown to Aimee. The score that N'kisi attained in this study was almost twice what would normally have been attributed to chance.
The scientific community has, however, treated this study with skepticism.
About The African Grey Parrot As A Pet – A Demanding Commitment
African grey parrots are intelligent, playful and social animals that demand frequent and stimulating interaction with their owners. Without it, they can become bored and depressed, leading to the development of destructive and aggressive behaviors.
To stay healthy, they require clean living areas, space that enables them to be physically active, and a diet that is varied and nutritious. This means fruit and vegetables daily, in addition to seeds.
Caring for an African grey requires a lot of time of its owner, and a constant awareness of the bird's needs.
Owing to its long life expectancy and its tendency to bond with a single person, caring for an African grey parrot must be a long-term commitment.
Want To Know More About The African Grey Parrot?
Please feel free to explore this website. Whether you are a prospective African grey owner or you already own a grey you are very likely to find what you are looking for here.
We are continuously adding new articles, guides and information about African grey parrots, so if you don't find what you are looking for right away, come back regularly.
Alternatively, leave a comment to let us know how we can help. We'll do our best to accommodate you.